Law Offices of Girardi Keese
25aug10:30 amSale TypeOnline Only AuctionBy Order of the US Bankruptcy CourtLaw Offices of Girardi KeeseGeography:Los Angeles, CA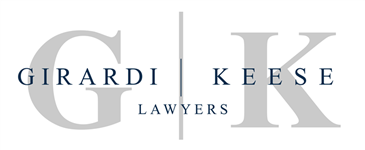 Known for its famous case against PG&E, as featured in the film Erin Brockovich, the high profile law firm of Girardi Keese filed for bankruptcy in December of 2020.  The firm's assets will be sold to help pay off creditors, including those who have filed claims of fraud against them.  The auction will feature the firm's office furniture, business machinery and equipment, as well as furnishings and decorations comprised of art, oriental rugs, sports memorabilia, wine, music memorabilia, statues, vintage law (and other) books, a vintage piano, a Cadillac DTS and much more.  The following is a partial listing of items in the sale:
ART & COLLECTIBLES
Art: Marc Chagall Limited Edition; Safari prints by Kay Kochenderfer; Other contemporary and traditional pieces;
Autographed Beach Boys Pet Sounds Album Cover
Guitars: Fender Stratocaster (Unknown Autograph); Warwick Corvette Bass Guitar, More
1960 Signed Photo – Supreme Court Justices
Antique Books: State-Tryals and Proceedings 1719; Complete Works of Robert Frost;  Others
Sports Memorabilia: Sandy Koufax Signed/Numbered Print; NY Yankees Bleacher Seat; Notre Dame Heisman signed Football, More
Signed Photo: Bob Hope, Ronald Reagan, John Wayne, Dean Martin, Frank Sinatra
Jonathan Adler Giant Acrylic Hippo; Gulfstream G-IV Desktop Model; Amethyst Geodes, More
Signed Erin Brockovich Movie Poster
Vintage Hermes 3000 Typewriter
Early 1900's Cauldon Gold Flake China Set
Blind Justice Bronze Statue (floor standing)
Antique Late 1800's Upright Piano – John Broadwood & Sons (London)
Much More…
OFFICE FURNITURE & FURNISHINGS
Executive 'U' Shaped Desks
Conference Room Furniture
High Back Executive Chairs & Mid Back Ergonomic Chairs
Wood & Metal Lateral File Cabinets
Reception Furniture
Bookcases & Wall Cabinets
Modular Office Stations
Oriental Rugs
Decorative Lamps
Sofas & Guest Chairs
Potted Plants & Trees
& More…
COMPUTERS & BUSINESS EQUIPMENT
Dell Personal Computer Systems
HP B&W and Color Laser Printers
Telecom Equipment & VOIP Phone Handsets
Postage Machine, Shredders, Binders 
More…
WINE & CHAMPAGNE (Must show ID and be 21 or older to purchase)
Over 100 Bottles of Wine & Champagne, including:
Magnums: BV Georges De Latour Private Reserve Cabernet 1986; Silver Oak Cabernet 2010
2 Bottles: Heitz Cellars Bella Oaks Cabernet 1996
Hundred Acre Ark Vineyard Cabernet
Harlan Estate The Maiden, 1997
Sea Smoke Ten Pinot Noir, 2009
Bond Melbury Napa Red Wine, 2002
Magnum: Bollinger Grande Annee Champagne, 1992
Veuve Clicquot Ponsardin La Grande Dame Brut, 1996
Dom Perignon Creator Edition 'Metamorphosis' by Iris Van Herpen Brut, 2004
Many Others…
OTHER
2011 Black Cadillac DTS
Air Compressor
Law Books
Rolling Book/File Carts
Combination Safe
& Much More!!!
The auction will take place online on August 25.  Check back soon for more details…
IMPORTANT:  Shipping is NOT offered for this sale.  Buyers must pickup items themselves or contact a third party shipper to pickup and deliver (we offer a few suggestions of unaffiliated, third party service providers below). Buyers of wine MUST pickup in person and have an ID showing minimum age of 21 that matches the buyer's auction registration information. Please read the complete Terms & Conditions below to prepare for the sale.
Questions about the sale, call toll free: 1-888-345-SOLD, extension 110
Never attended an auction?  Learn how to bid by reading frequently asked questions here.
Sale Date(s) & Time(s)
Catalog Posted: Thursday, August 12
Bidding Opens: Friday, August 13
Bidding Closes: Wednesday, August 25 starting at 10:30am PDT
(Items will close sequentially at a rate of 2 items per minute)
Removal Period: Friday, August 27 thru Monday, August 30 from 9am to 4pm by Appointment Only.
Preview Date(s) & Time(s)
No In-Person Preview will be Offered for this Sale
Location(s)
Removal Site(s) 1126 & 1138 Wilshire Blvd., Los Angeles
Please Note: Buyers are Responsible for Item Pickup and Removal
Important Information
Please click on each section (>)  below for important sale information: